In a solemn ceremony, Deputy Superintendent of Police Humayun Bhat, was laid to rest in Budgam following his tragic death in an encounter with terrorists in Anantnag.
The attack, claimed by the banned Resistance Front, believed to have links with Lashkar-e-Taiba, resulted in the loss of three Army personnel, including a Colonel and Major Ashish Dhonack, along with DSP Humayun Bhat.
Bhat's funeral was attended by family, friends, fellow officers, and members of the community. His father, retired Inspector General Ghulam Hasan Bhat, placed a wreath on his son's casket.
Bhat's wife and their two-month-old daughter also paid their respects at the funeral. DSP Humayun Bhat had served in the Jammu and Kashmir Police for three years and got married last year.
The operation against the terrorists commenced on Tuesday evening in the Garol area but was called off during the night, only to resume the following day. The encounter left the three officers critically injured, and despite receiving medical treatment, they succumbed to their injuries.The banned Resistance Front, with suspected ties to Lashkar-e-Taiba, claimed responsibility for the attack, which may be linked to a prior incident in Kulgam.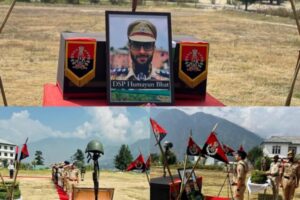 Director General of Police Dilbag Singh expressed condolences and promised swift justice for the attackers.
Read More: https://clipper28.com/en/kerala-on-high-alert-as-nipah-virus-claims-2-lives-in-kozhikode/