Prime Minister Narendra Modi laid the foundation stone for a state-of-the-art International Cricket Stadium in Varanasi on Saturday. Joining him were cricket legends such as Sachin Tendulkar, Sunil Gavaskar, and Kapil Dev, along with key figures from the Board of Control for Cricket in India (BCCI), including President Roger Binny, Vice President Rajiv Shukla, and Secretary Jay Shah.
This monumental project represents a significant joint investment between the Uttar Pradesh government, led by Chief Minister Yogi Adityanath, and the BCCI. While the state government allocated ₹121 crores for land acquisition, the BCCI will invest ₹330 crores for the construction of this world-class cricketing facility.
The stadium's design is a tribute to Varanasi's rich cultural heritage, dedicated to Lord Shiva. Notable features include a Trishul-shaped dome, floodlights resembling Lord Shiva's Damru, an entrance inspired by the Bael leaf, and seating arrangements resembling Ganga Ghats. The entrance is shaped like a bel-patra, and the stadium's roof mimics a crescent moon.
Designed by Larsen & Toubro (L&T), this stadium has a seating capacity of 30 thousand people.    A target of 2 years has been set to complete the construction of this stadium.
Uttar Pradesh Chief Minister Yogi Adityanath expressed his pride in the forthcoming cricket stadium, stating, "The sportspersons here will benefit from the construction of an international stadium in Kashi. This stadium will become the star of the Purvanchal region."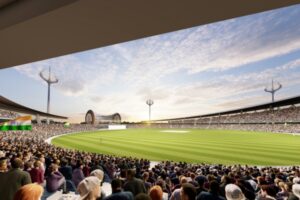 The construction of this cricket stadium underscores India's prowess on the global stage, a sentiment echoed by CM Yogi Adityanath, who emphasized, "Global leaders witnessed India's capabilities and strengths during the G20 Summit."
The next steps in the stadium's development involve securing approvals from the Uttar Pradesh Cricket Association (UPCA) and obtaining no-objection certificates from various departments, including those related to forests and groundwater. Once these formalities are completed, the construction process will begin with land levelling and the erection of the stadium's boundary wall.
Read More: https://clipper28.com/en/womens-reservation-bill-passed-in-lok-sabha-with-454-votes/