In a celebration of great food from around the world, Taste Atlas, a respected food and travel guide, has released its latest list of the "50 Best Breads in the World." This time, the list highlights a variety of delicious bread creations, showcasing the rich diversity of global cuisine.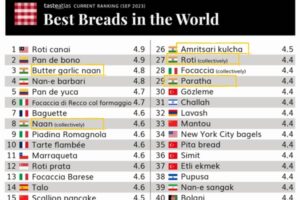 Butter Garlic Naan Takes Third Place
Butter Garlic Naan, a perennial favorite, has earned the third spot on the list. This is in addition to its earlier recognition as the second-best flatbread worldwide. This naan, flavored with garlic and generously served with butter, has won praise for its amazing taste.
Plain Naan and Paratha Also Impressive
The list also features Plain Naan at the eighth spot, previously ranked as the fourth-best flatbread. Its simple yet satisfying taste appeals to bread lovers. Additionally, Paratha, a popular breakfast option known for its deliciousness, earned a spot in both lists, reflecting its enduring popularity.
Amritsari Kulcha and Roti Shine
Amritsari Kulcha, known for its hearty flavors, is rightfully featured on the list, showcasing the culinary expertise of the Amritsar region. Notably, Roti, a staple in the daily Indian diet, proudly secures the 27th position, solidifying its importance in Indian cuisine.
Roti Canai Tops the List
The top honor goes to Roti Canai, a beloved flatbread dish from Malaysia, recognized for its flakiness and versatility. It has become a global sensation, appealing to taste buds worldwide.
Celebrating Bread Diversity Worldwide
The list isn't limited by borders and includes a wide range of international breads, such as Colombia's Pan De Bono, Roti Prata, Talo, Nan-e Shirmal, Lavash, and Somun, among others. Previous rankings have also praised Indian breads like Aaloo Naan, Kashmiri Naan, Aloo Paratha, and Roomali Roti, emphasizing their exceptional flavors and textures.
These rankings underline the incredible variety of flatbreads found in cuisines worldwide, including well-known options like lavash, pita bread, focaccia, and tortilla.
Taste Atlas's latest list confirms that bread, in all its forms, remains a universally beloved food, transcending borders and cultures, and satisfying taste buds worldwide. These rankings recognize the creativity and skill that go into making the world's favorite bread creations.
Read More: https://clipper28.com/en/apple-launches-new-iphone-15-series-and-apple-watch-models/