Pakistani singer Ali Sethi is making waves as rumours of his marriage to artist Salman Toor are flooding social media. The two reportedly tied the knot in a private ceremony in New York City.
Sethi and Toor, who share a close friendship dating back to their time at Aitchison College, Salman Toor, known for his artistic work, openly discussed his own journey of coming to terms with his sexual identity in a 2022 interview with The New Yorker.
In the same interview, Toor expressed a deep connection with 'Pasoori' singer Ali Sethi, stating, "I knew I had found the person I wanted to be with for good." Ali later addressed the rumours on his Instagram account and denied them.
Whether true or not, the alleged couple faced trolling and homophobia from the online community. However, some individuals extended their support, offering congratulatory messages and even sharing Toor's paintings that revolve around themes of love and prominently feature Ali.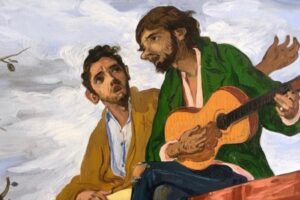 Read More: https://clipper28.com/en/its-official-ranveer-singh-is-the-new-don-in-the-most-anticipated-don-3/