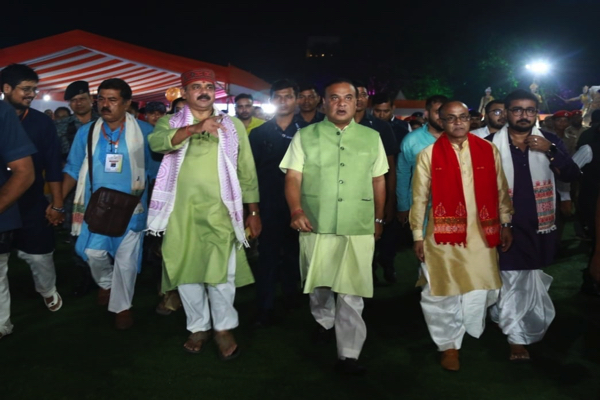 Nava Thakuria
It's usual when one responsible citizen possesses love & affection to his/her country, but when the residents worship their motherland as a deity, the trend emerges unusual, and it happens only in India (Bharat). Indians continue calling their motherland as Bharat Mata (or Bharatamba) since time immemorial. In reality, the national personification of India as a mother goddess gained momentum during the freedom movement against the British. Bankim Chandra Chattopadhyay introduced a hymn titled 'Vande Mataram' in his Bengali novel 'Anand Math' (1882) and later Kiran Chandra Bandyopadhyay performed a play titled 'Bharat Mata'.
Pioneer Indian painter Abanindranath Tagore portrayed Bharat Mata as a Hindu goddess in a painting (1905), where the four-armed deity, wearing saffron coloured traditional garments, had carried a book, an Akshmala, sheaves of rice and a piece of white cloth. Bharat Mata as a Devi was also printed on the cover of Subramania Bharati edited Tamil
language magazine 'Vijaya' in 1909. Since then Bharat Mata, wearing red-coloured sari with a saffron flag on hands with an accompanying lion, is used to symbolise a culturally unified motherland (Akhanda Bharat) for millions of Indians.
The abundant love, affection and commitment for the nation was also reflected in a recently concluded cultural extravaganza in Guwahati. The five-day spiritual festivity of Bharat Mata Pujan 2023 kick-started on 19 October. Thousands of cultural personalities, art
connoisseurs and nationalist residents assembled at the venue, where the motherland was projected as a deity with various attractive programs. Organised under the aegis of Pragnya, the annual festival was inaugurated by Sattriya dance exponent Jatin Goswami by lighting the sacred lamp in presence of Taren Boro (former president of Bodo Sahitya Sabha), Jitul Sonowal (president of Pragnya) and Manmath Barua (president of Bharat Mata Pujan committee).
A collective dance on the theme of Vande Mataram with 700 young participants from the Harian community turned out to be a visual feast for the audience. A splendid group dance competition featuring 70 teams enthralled everyone in the evening hours. It was preceded by the inauguration of an exhibition with 20 stalls showcasing the Indian knowledge system & tradition comprising Gnyan, Bignyan and Jivan Darshan. Thousands with traditional attire participated in Akhanda Bharat Parikrama keeping earthen lamps on their hands and walking around the Bharat Mata idol amidst a model of the Indian subcontinent
comprising Bharat, Afghanistan, Pakistan, Sri Lanka, Nepal, Bhutan, Bangladesh, Myanmar etc.
A series of cultural programs including Kanya Pujan (where 101 girls were adored), Guru Pujan (where 88 university vice-chancellors, college principals and teachers were paid respects), Mohiyasi Matri Sanman (where 14 distinguished mothers were honoured), Alpana contest with twelve participating teams, puppet shows by the traditional
Assamese string-puppet theatres, folk musical performances and mime shows (by local talents), cultural events conducted by BSF personnel, illuminating dance shows depicting Punyabhoomi Bharat, folk and classical musical events representing various parts of the region greeted the audience every day during the festival that came to an end
on Maha Navami of Durga Puja.
The last evenings' program began after condoling the demise of veteran folklore academician, linguist, author & singer Dr Birendranath Datta along with cultural journalist Arunlochan Das and music director Dasarath Das. Assam chief minister Himanta Biswa Sarma also took time to pay a visit to the festival. His predecessor Sarbananda Sonowal,
now a central minister along with State minister Piyush Hazarika with others also graced the occasion. Prof Prahlad Joshi, vice-chancellor of Kumar Bhaskar Varma Sanskrit University, Akhil Bharatiya Itihas Sankalan secretary Hemanta Majumder with others joined in various programs, were eminent cultural icons namely Malaya Goswami, Chetana
Das, Purnima Pathak, Bina Baruwati, Manisha Hazarika, Upakul Bordoloi, etc handed over the awards to different winners.